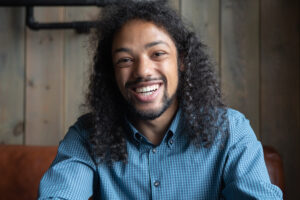 If you keep up with good oral hygiene habits, and keep up with your dental checkups, you are less likely to have problems with your oral health that need in-office treatment. Of course, even if your goal is the prevention of problems, it can be reassuring to know that your dentist can help if trouble does arise. At our Rowlett, TX dentist's office, we are committed to helping patients when they need their oral health restored. Our different approaches to care enable us to address different degrees of poor health in ways that minimize changes to your tooth structure. This includes a commitment to providing both partial and full dental crowns when treatment calls for more than just dental fillings.
When Is It Necessary To Have A Tooth Restored With A Crown?
Dental crowns require more changes to your tooth structure than dental fillings, which is why fillings are used for more conservative problems. When a cavity is too large for a filling, or when your tooth structure is broken by physical trauma, we can address the problem with either a partial or full crown. Having the option to place a partial crown will help us preserve more of your healthy enamel when we can. In a situation where a full crown is needed, we can make sure that your smile is preserved, as we have the option of placing a restoration made to imitate your healthy tooth.
Planning Your Restorative Treatment With A Partial Or Full Crown
A review of your tooth's health can let us know whether you will need a partial or full crown. Partial crowns cover a portion of the tooth structure, either protecting spaces between cusps or extending protection over a cusp and down to the tooth structure. With a full crown, we cap a tooth, completely covering it and protecting it from potential issues. This can restore your dental function as well as your oral health, so you will not have to worry about working around it whenever you bite and chew.
Using Dental Crowns To Replace Missing Teeth
By restoring a dental implant with a crown, we can address tooth loss without altering your appearance. The restoration will provide enough support to let you bite and chew with it. You can actually benefit from the stimulation this creates, as it will help you keep your jaw healthy.
Talk To Your Rowlett, TX Dentist About Treatment With A Custom Dental Crown
The work that goes into restoring an unhealthy tooth is important. When you have the right support, your smile is preserved, and you can feel more confident in your health as well as your bite function. If you have questions about treatment or want to discuss an ongoing concern with your well-being, please contact Rodem Tree Dental in Rowlett, TX at 972-475-2321 to set up an appointment.