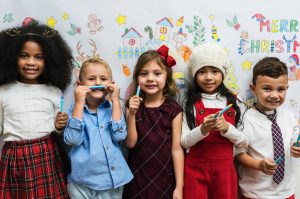 It can be difficult as a parent to instill proper health habits. Our little ones cannot comprehend the necessity of preventive care in the same way as adults and they do not have the life experience to predict the cause and effect of their choices. These two concepts collide when it concerns oral health.
At your Rowlett, TX dental office, dental hygiene and maintenance are crucial habits for children to develop while they are young. For this reason, a routine cleaning and examination can serve as a strong way to show your kids that the best way to care for your smile is through prevention. There are added benefits around the holidays and the new year, as well. Tying your oral health to a significant annual event can help to set a strict date for an appointment.
The Most Wonderful Time Of The Year
One of the most helpful ways to support strong oral health values in your family is through strict adherence to visits. A routine examination and cleaning is suggested every 6 months, if not sooner. While it may feel easy to reschedule the time and minimize it as a simple checkup, letting this schedule slip can pose problems in the future.
We have found much success in connecting a significant time of year to these visits. For instance, when parents bring their child to the office for a back-to-school visit, it is seen as a necessary step in yearly growth. This view can help shift the story from being one of gloom to an exciting way to stay on top of health! Children are eager to learn and grow. Work with it to give them the most positive habits you can!
Help The Future Look Bright
Parents justifiably struggle to maintain a healthy schedule. It is hard enough to tackle medical appointments as a full-grown adult when you're on your own. Adding to the frenetic pace of a child's development can feel insurmountable. But it is important to be proactive in scheduling. This way, you aren't consistently trying to make up time.
For this reason, it may be helpful to connect your appointments to an important time of the year like the holidays. If you are waiting until everything is perfectly calm and quiet to schedule your visit, you may wait a while! Instead, leaning into the excitement of this period can be helpful. Carve out some time in your Christmas vacation for a dental refresh!
Healthy Family Smiles In Rowlett, TX
Rodem Tree Dental is proud to bring strong oral health care to patients of all ages. Help your child to develop healthy habits and schedule an appointment with our dental office in Rowlett, TX, today at 972-475-2321! We can keep a trained eye on their development for the safety of their future!