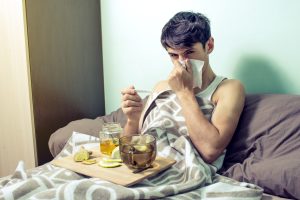 This time of the year, our common viruses such as the cold and the flu start to become much more serious of a concern. We are much more likely to be indoors on account of the weather, and the holidays means people are closer together in a number of areas. Beyond the visits to friends and family, we take more trips out to shop, to eat, and to see the festive sights.
These illnesses can mean a few days sick from school or work at the least, and they can actually be very dangerous. So take the time to protect yourself as best as you can, for both your own health and that of the others around you. Not only can this be damaging to your overall wellbeing, but being sick can take its toll on the strength of your mouth, as well. Today, your Rowlett, TX dentist gives you some ideas on how to keep your smile looking and feeling great during this cold and flu season!
Precautions Matter
Our cold and flu season appears to be particularly severe this year, with hospital beds more full than usual. Not only are our normal respiratory illnesses stronger than ever, but we have the lingering effects of the COVID-19 pandemic. You might be inclined to let your health hygiene slip a little, but it's time to bring out some of those habits. In addition to these concerns, there is also the increased risk of the respiratory disease RSV, which can become very serious in the young, the very old, and those with a weakened immune system.
For this reason, the simplest and most effective ways to ensure that you stay as safe as possible this winter are through the influenza vaccine and your COVID booster. These quick precautions can save you a lot of trouble in the long-run! Many pharmacies are offering deals and discounts in association with the shots, to get them as soon as possible. always be sure to check with your doctors to ensure that there is no allergy risk or health concern prohibiting you from receiving it.
Making The Best Of It
If you have become sick, it's important to take some of the necessary steps to keep yourself as healthy as possible. After all, your immune system is fighting a serious battle, so other areas of the body might suffer. And you might be trying so hard to rest that you ignore your hygiene.
Brushing your teeth and maintaining your normal oral health regimen can help you to feel a little better. No, it won't address the sweat, but having a clean mouth can let you feel a little more human. And this can allow you to mitigate some of the extra risk due to an overstressed immune system!
ABOUT YOUR ROWLETT, TX, FAMILY DENTIST:
At Rodem Tree Dental, Dr. Ellen Nam and her team use their talents and training to better serve their patients. They offer a full array of general, cosmetic, and restorative treatments for adults and children alike. Their passion and dedication is evident in their gentle, personalized treatment. To schedule an appointment, call our dental office in Rowlett, TX, today at 972-475-2321. Though located in Rowlett, we proudly welcome patients from Rockwall, Garland, Wylie, Sachse, and all surrounding communities.