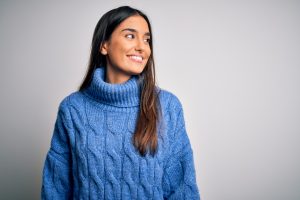 Very few people are fully happy with their natural smile. Even if almost everything is perfect, a little chip or a misshapen tooth can pose a problem. With all these different issues, you would think that it would require multiple procedures, affecting all areas of your oral health.
But porcelain veneers are a sturdy and secure functional cap over your natural enamel. These can last decades if they are maintained properly, all while looking gorgeous. These have a fascinating history that dates back to the Golden Age of Hollywood, and have become a solid staple of both cosmetic and restorative dentistry. If you have a broken tooth and wish to address cosmetic concerns during the same procedure, even better! Combining surgical methods can limit trauma and allow you to avoid excessive recovery time. Today, your Rowlett, TX dentist introduces you to the wonderful world of porcelain veneers!
An Interesting Journey
Our concept of these ceramic caps as an enamel replacement or enhancement stems from the activity of a Hollywood dentist named Dr. Charles Pincus. This man was hired to create a special effect prosthetic for use in a movie. Unlike previous methods, he used porcelain, a durable and beautiful translucent clay. This is used very often for teacups and plates, since it is deceptively strong.
While this didn't catch on at the time, it left its mark. The issue that arose within dental prosthetics was the ability to attach permanently to the enamel. The development of the process of etching changed that concept. This is an acidic wash that eats away some of your enamel, leaving it rough and porous. This allows for prosthetics to remain for much longer.
Versatility In Design
One of the best aspects of porcelain veneer surgery is its customizability in covering up many different forms of issues. This extends both to restorative and cosmetic dentistry. Broken teeth can be restored to better than before. But we can also improve upon your smile, addressing all the issues you thought you would have to live with for the rest of your life!
For instance, alignment concerns are often tackled head on with the placement of a veneer or a full set. Since these prosthetics are custom crafted by skilled ceramicists, they have a wide variety of latitude in how they make your new smile. Orientation, size, and other aspects can be adjusted before the prosthetic even reaches your mouth!
ABOUT YOUR ROWLETT, TX, FAMILY DENTIST:
At Rodem Tree Dental, Dr. Ellen Nam and her team use their talents and training to better serve their patients. They offer a full array of general, cosmetic, and restorative treatments for adults and children alike. Their passion and dedication is evident in their gentle, personalized treatment. To schedule an appointment, call our dental office in Rowlett, TX, today at 972-475-2321. Though located in Rowlett, we proudly welcome patients from Rockwall, Garland, Wylie, Sachse, and all surrounding communities.