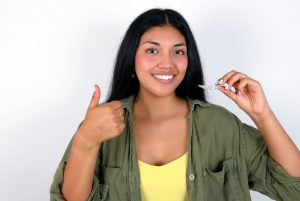 Does your smile suffer because of poor teeth spacing? If so, you may think that your only chance at fixing it comes from traditional orthodontic work with metal braces. What you can find instead is that there are more convenient treatment approaches that are available to you. With the use of Invisalign aligners provided through your Rowlett, TX dentist's office, you can take on poor spacing through a process that has minimal effect on your appearance and daily life. In some cases, we may even be able to help patients without relying on orthodontic treatment, as we can instead recommend cosmetic dental work to hide conspicuous flaws.
Invisalign Treatment Can Give You More Confidence When You Smile And Speak
Through the use of Invisalign aligners, we are able to correct spacing flaws that leave you with too much room between teeth or so little that they overlap. The confidence you feel after completing your adjustment can certainly be welcome, but you can also depend on your corrective work to improve your oral health and dental function. A review of your smile will help us both determine what clear aligners can do for you and see what you need from your aligners.
Using Clear Aligners To Take On Problems With Uneven Teeth Spacing
Clear aligners are prepared specifically for the patient who is about to start treatment. Each one in the set that is given to you will make the appropriate movements to fix gaps, overlaps, and other flaws progressively from one to the next. To stay on track with your targeted treatment end date, be sure to wear them for as much time as possible on a daily basis. With that said, they can be freely removed whenever you need to eat or clean your teeth, so these behaviors will not be disrupted.
Discussing Other Services That Can Improve Your Smile And Health
There are other approaches we can take to help you feel great about your smile. If your alignment issues are not so severe that orthodontic work has to take place, we can look at hiding gaps and overlaps with porcelain veneers. These thin but durable shells are able to withstand friction from biting and chewing for many years. Their placement can hide more than just poor spacing, as they can also assist in treating discoloration, dental damage, and more.
Talk To Your Rowlett, TX Dentist About Treatment With Invisalign Aligners
Through treatment with Invisalign aligners, we can help patients take on problems with their appearance, along with oral health issues that can be traced back to spacing problems. If you would like to learn more about how we can help you, contact Rodem Tree Dental in Rowlett, TX at 972-475-2321 to set up an appointment.