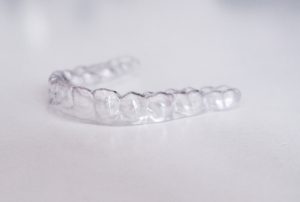 The problems you have with your smile may call for orthodontic work. Unfortunately, people often assume that their options for this kind of care are limited, and they will hold off on seeking help even if they are eager to fix problems with gaps and overlaps. By discussing the matter at our Rowlett, TX dental practice, you can learn that Invisalign aligners make it easier for you to fix issues with the way your teeth are spaced. A set of these aligners will gradually move teeth without requiring the use of a fixed or unsightly appliance. We should note that malocclusion is just one of many cosmetic concerns that we are prepared to help patients address!
Are You Tired Of Feeling Embarrassed By Your Poorly Aligned Smile?
Poorly aligned teeth can hurt your confidence in the way you look by making your smile asymmetrical, and by leaving gaps and overlaps between teeth that are distracting. With traditional metal braces, these problems can be effectively resolved, leading to cosmetic and oral health benefits. As welcome as these improvements can be, people are sometimes made uneasy by the permanent placement of these appliances, which can feel intrusive and become a conspicuous presence. You should know that an alternative treatment options with clear aligners is available. A set of these appliances can make the adjustments that you need while having less impact on your daily life, making treatment easier and more appealing.
Discussing Treatment With Invisalign Aligners
We can evaluate you to confirm that Invisalign aligners are an effective approach for treating your current alignment issues. Once we confirm that this is the right solution, we can take the necessary steps to provide you with a set of appliances that are ready to make your needed adjustments. Each one in the set that you receive will gradually move your teeth into better positions. All of them are removable, which means that you will not have to worry that they will affect your hygiene efforts or what you can eat. You can also be glad to see how little effect they have on how you look, as this means you will not have to worry over their impact on your appearance in social and professional environments.
Other Services That Provide Lasting Smile Improvements
There are circumstances where cosmetic dentistry can hide problems with poor teeth spacing. If you qualify for treatment with porcelain veneers, we can make needed corrections without the need to wait for teeth to adjust gradually. Instead, we can cap teeth in order to hide gaps and overlaps, which can give you a more symmetrical and attractive appearance.
Talk To Your Rowlett, TX Dentist About Treatment With Invisalign!
Through treatment with Invisalign, we can take on problems with the way you look and improve your oral health without the need for metal braces. If you would like to learn more about the advantages of starting an adjustment, contact Rodem Tree Dental in Rowlett, TX at 972-475-2321 to set up an appointment.