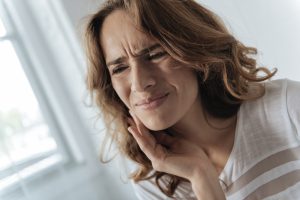 Why are you experiencing such consistent pain and sensitivity when you wake up each morning? The discomfort that greets you at the start of your day can point to a problem with teeth grinding that happens at night. This problem, known as bruxism, will unfortunately not stop at simply making your mornings less pleasant. Over time, it can create more serious consequences, as it can wear down your teeth, causing them to chip and crack, and it can put pressure on your jaw joints and muscles that will lead to painful TMJ problems. At our Rowlett, TX dental practice, we can offer relief with a custom oral appliance that you can use during the nighttime to protect your smile!
Teeth Grinding At Night Can Have Many Consequences
The trouble with nightly teeth grinding will not limit itself to morning problems with dental pain and facial sensitivity. The discomfort you feel is a real concern, but it is just one of several when you are dealing with bruxism. The continued pressure on your joints and muscles can lead to difficulties with TMJ disorder, which can make biting and chewing difficult. Over time, this issue can also lead to chronic headaches, facial pain, and limited jaw movement. Another concern is that the friction from grinding your teeth will lead to damages that hurt your confidence in your smile.
Protect Your Smile By Wearing A Custom Guard That Your Dentist Provides
The good news is that a custom oral appliance is able to protect your smile against the threat of further wear and tear. By wearing it, you can keep your upper and lower teeth apart during the night. This can reduce the pressure on your jaw as well, leading to fewer issues with pain.
Taking Care Of Dental Damage Caused By Wear And Tear
If you already have teeth that are in need of treatment, we can recommend the appropriate services based on their conditions. Minor problems can be addressed by having teeth reshaped or resized through cosmetic dental work. If more significant harm has occurred, we can recommend restorative dental work with crowns. The custom crowns that are put in place can offer bite support and protection as well as cosmetic benefits!
Talk To Your Rowlett, TX Dentist About Your Nightly Teeth Grinding!
When you continue to grind and clench your teeth during the night, you can cause increasing wear and tear that changes how they look. Eventually, the damage can become serious enough to affect your oral health as well as your appearance! If you would like to find out more about how we can take care of this issue and help you move on from it, please contact Rodem Tree Dental in Rowlett, TX at 972-475-2321 to set up an appointment.