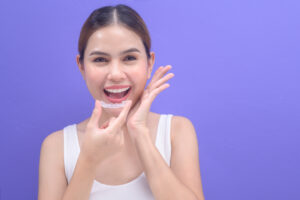 Until you do something about them, any gaps that exist between your teeth can be a source of embarrassment, one that holds you back from feeling truly confident in your smile. At our Rowlett, TX dentist's office, we can help you take on these problems through Invisalign treatment! Your clear aligners will do the work of closing gaps, spacing out teeth that overlap, and taking on any other alignment issues that currently affect how you look. In addition to taking on problems with the way you look, this can help you improve your oral health and bite function! We should note that there are some patients who can benefit from other cosmetic services capable of hiding minor spacing flaws, which means they can see the results they want in less time.
How Should You Approach Invisalign Treatment?
If you are ready to do something about poor teeth spacing but feel uncomfortable with the idea of metal braces, you can certainly benefit from asking about Invisalign! With this as a treatment option, you no longer have to worry about having an appliance permanently set in place for the duration of your care. You also have less to worry about when it comes to your appearance, because each aligner is made to be discreet. Until you complete your care, you will wear a designated appliance for a set length of time each day. While you should be consistent with wearing them, you are free to remove them whenever you need to eat or clean your teeth.
Using Your Clear Aligners On A Daily Basis
The discreet design of Invisalign appliances makes it easier for people to wear them on a daily basis, even at times when they need to be more conscious of the way they look. What this means is that you will not have to question how Invisalign might impact the way you present yourself at a social or professional gathering. Keeping each one in place throughout the day for the duration of its use will keep you on track with corrective treatment. Of course, because they are easy to remove, you can quickly and conveniently take them out at times when they are in your way.
Talk To Your Rowlett, TX Dentist About Treatment With Invisalign Aligners!
Patients at our practice can explore different options for treating problems with poor teeth spacing. Those options can actually include work with Invisalign appliances, which fix gaps and overlaps discreetly, which means you can have fewer issues with daily life during your correction. In addition to taking on gaps and other flaws in this way, we can discuss other options that may benefit you, such as the Six Month Smiles treatment or even a single cosmetic procedure! If you are ready to find out more, contact Rodem Tree Dental in Rowlett, TX at 972-475-2321 to set up an appointment.