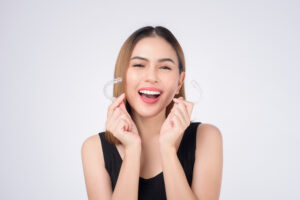 Until you do something about it, malocclusion can rob you of a confident smile, and it can also create issues for your oral health. What you might not realize is that there are actually several services that can help with this problem. Our Rowlett, TX dentist's office is ready to help you understand what your options are for care. In addition to using metal braces to move teeth into position, we can discuss more patient-friendly alternatives: Invisalign aligners can move teeth discreetly, and with removable appliances, while Six Month Smiles can help you see results in a remarkably short time!
What Are Your Options For Treating Problems With Poorly Spaced Teeth?
Problems with teeth that are not properly spaced can hurt your smile, and they can also make trouble for your well-being. People who have teeth that overlap can find it difficult to bite and chew properly. Issues with your spacing can also make it difficult for you to bite and chew without discomfort. As you look into your options for treatment, you can find that there are several that are able to help. While we can provide you with treatment that depends on metal braces to make your adjustments, we can also discuss other options, including Invisalign aligners. For those who qualify, another option we can recommend is Six Month Smiles. This is a solution that focuses on cosmetic improvements, and it can condense a long process into something shorter and more convenient.
Using Invisalign Aligners To Straighten Your Smile
Invisalign aligners are able to help many people who have problems with malocclusion. Taking care of your smile in this way can make your treatment experience easier. After all, you will use appliances that are difficult to see and also easy to remove, so your quality of life is not impacted in ways it would be while wearing metal braces.
Counting On Metal Braces To Resolve Problems With Malocclusion
Although metal braces are more conspicuous than Invisalign appliances, and they are fixed in place, there are reasons to choose them for your orthodontic work. It is important that you have the right aligners if you want to see lasting results. For people who have more serious spacing problems, we can recommend metal braces to ensure that you see the right overall improvements.
Talk To Your Rowlett, TX Dentist About Treatment For Poor Teeth Spacing
Problems with the way your teeth are spaced can be difficult to live with. Fortunately, there are several effective treatment options. With the right aligners, our practice can help you fix issues with gaps, overlaps, and other embarrassing problems. If you would like to find out more about how we can take care of your appearance and dental health, contact Rodem Tree Dental in Rowlett, TX at 972-475-2321 to set up an appointment.