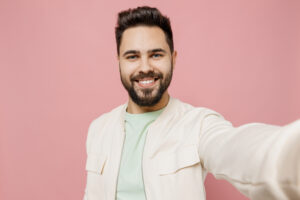 Even a small amount of excess space between teeth can be a source of discomfort for a person. A gap in your smile can make you self-conscious because it draws unwanted attention. It is also a concern because it can represent a larger issue with poor teeth spacing that hurts the way you look. At our Rowlett, TX dentist's office, we can provide answers on orthodontic treatment that suit you. In addition to discussing work with traditional appliances, we can look into an approach that relies on Invisalign appliances. For some, the Six Month Smiles approach will offer welcome results in a shorter than expected time!
Are You Tired Of A Visible Gap Between Teeth Hurting Your Smile?
When you are aware that people can see a gap between teeth when you smile and speak, you may have a hard time shaking a self-conscious feeling. The presence of any variation that disrupts your smile symmetry or generally draws unwelcome attention can be a problem. Fortunately, several solutions are available. In some circumstances, we may be able to hide a minor gap by adding to the size of a tooth through cosmetic dental work. To improve on the overall alignment of your teeth, we can recommend that you undergo orthodontic work. You have varying options that can provide different benefits. Because you have these options, you can feel more comfortable agreeing to corrective care.
Looking At Your Options For Orthodontic Treatment
With traditional metal braces, people with different degrees of spacing problems can find that they have access to effective treatment solutions. You can also look into another option, one that relies on a set of clear aligners to gradually move teeth. Invisalign can also help, and it can offer a welcome alternative that is more discreet and convenient. Another option is to look into Six Month Smiles, which focuses on the cosmetic issues with crooked teeth to deliver faster improvements.
How Corrective Work Benefits Your Oral Health
If you have ignored problems with malocclusion, you can find that you have ignored a problem that affects more than just your appearance. People with poorly spaced teeth may have a more difficult time keeping them clean, which can mean that they are more likely to need restorative dental work. Trouble with spacing can also lead to problems with your bite function, something that can lead to persistent discomfort.
Talk To Your Rowlett, TX Dentist About Closing A Gap Between Your Teeth!
Through the right orthodontic adjustment, you can put problems with teeth spacing, such as the presence of a visible gap, behind you! If you would like to learn more about this or any other treatment we can offer, contact Rodem Tree Dental in Rowlett, TX at 972-475-2321 to set up an appointment.