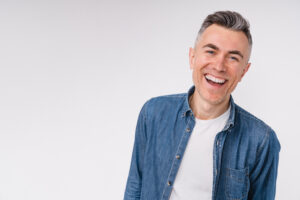 How much trouble can one missing tooth really cause? The answer can reveal itself in a short time after you experience this problem. An incomplete smile can look less attractive, offer less support for your dental function, and even interfere with your oral health in ways that will worsen in time. At our Rowlett, TX dentist's office, you can learn about the positive impact provided by a prosthetic restoration held in place with a dental implant. With the use of imaging technology, we can actually offer digital implant placement, which can have positive benefits for the placement process as well as your experience with your restoration!
Are You Ready To Do Something About Tooth Loss?
It can be tough to live with tooth loss, but what you might not realize (yet) is that it will become harder to do so when you leave the problem untreated for an extended length of time. This is because a single absent tooth can create problems with your bite function and oral health that will grow worse. The trouble you experience can be due to the loss of jawbone density, and it can be linked to problems with teeth that have less support and become less secure over time. Fortunately, a restoration that has the support of a dental implant can take on these issues as well as concerns about your appearance. We can actually improve patients' experiences with the process of placing dental implants, as we use digital imaging technology for the procedure.
Your Digital Dental Implant Placement
Digital implant dentistry can offer more accurate placement and more conservative work that makes your recovery easier. The imaging technology lets us determine the right angle and location for your implant, which is set directly into your jawbone, where it will be able to offer lasting stability. The placement process is followed by the work of restoring the implant with a custom prosthetic appliance.
Life After Your Smile Is Completely Restored
After you complete the work of having your smile restored, you can count on our practice for ongoing support to keep your smile healthy and attractive. Regular dental visits are beneficial even to those patients who have never needed restorative dental work of any kind. For those who have restorations or prostheses in place, these reviews can lead to the timely detection and treatment of problems before complications affect them.
Talk To Your Rowlett, TX Dentist About Digital Dental Implant Dentistry
Through the right approach to prosthetic dental work, it is possible for you to enjoy several benefits both during and after work occurs to restore your full smile. Our practice can provide a more positive experience with implant dentistry because we use digital imaging technology to assist with the placement process. To learn more about this technology and how it can benefit you, contact Rodem Tree Dental in Rowlett, TX at 972-475-2321 to set up an appointment.