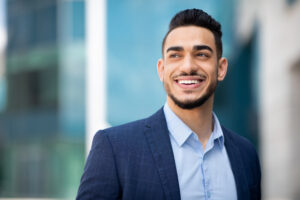 A person whose teeth appear dull and discolored can have a tough time maintaining confidence in their overall appearance. If you are someone who has this issue, you can see real improvements when you talk to your Rowlett, TX dentist about the benefits of a whitening treatment. Rather than try to make changes with a store bought whitening kit, which can have less than impressive results, you can take home a more potent treatment kit, one that is customized for your use. You can also make arrangements to see us for a one-visit in-office procedure. We should note that we are able to help with more than just teeth stains, as we can also deliver results when you need to address intrinsic discoloration.
Have You Been Worried About The Color Of Your Teeth?
Many people start to grow concerned about the color of their teeth over time. As problems with your smile worsen, it can be increasingly difficult to ignore how your dull enamel is making you appear older and less attractive. The trouble with avoiding teeth stains is that we can pick them up from a wide array of products, as many so many popular foods and beverages are dark or rich in color. Even if you are doing a good job fighting oral health problems with your hygiene routine, the particles left behind by these products can build up and gather, leading to noticeable issues with the way you look.
Planning Your Professional Teeth Whitening Treatment
There are two different options available to our patients who want to do something about dental discoloration. One is to take home a treatment kit that has been personalized for their use. Kits we prepare for patients include potent bleaching agents along with whitening trays to help with their application. As you use them on a daily basis, you can see welcome improvements to your appearance as your smile becomes many shades brighter. We can also help you take on problems with a single in-office treatment that can deliver welcome improvements.
Learn What Else We Can Do For Your Smile Through Treatment
Through the right cosmetic services, we can take on many concerning issues, including concerns about intrinsic discoloration. If your tooth structure's color changes because of an issue with poor oral health, a problem with an injury, or because of certain medications you are taking, we can help by capping less attractive teeth with porcelain veneers. Veneers also help to cover up chips and cracks, close gaps and other spacing problems, and generally improve your overall appearance.
Talk To Your Rowlett, TX Dentist About Convenient Teeth Whitening Treatment Options
With different options for teeth whitening treatment available to you, it can be surprisingly easy to take on issues with discoloration that have made you self-conscious. If you would like to find out more, contact Rodem Tree Dental in Rowlett, TX at 972-475-2321 to set up an appointment.