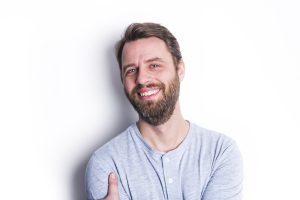 Has the time come for you to consider teeth whitening treatment? If so, you can be happy to know that the process of brightening your smile can be easier and more convenient than you expect. Your Rowlett, TX dentist's office can provide services in the office, or we can send you home with a treatment kit that can give you stunning improvements! Through this and other cosmetic services, we can help patients take on different concerns they have about their appearance. We can also take care of you if you have issues with intrinsic discoloration, something that can dull your teeth and require a different approach than one that uses whitening agents.
Are You Tired Of Feeling Unhappy With The Color Of Your Smile?
As the years pass, you can pick up enamel stains that cause worsening problems for your appearance. The more these stains accumulate, the more you can grow self-conscious about your smile and overall look. Dull teeth can make you appear older and less healthy than you are, and they can create an impression that your smile is in poor health. As you start to look at your options for cosmetic dental work, you can find that the right solution is surprisingly convenient, as we offer both in-office treatments and kits that patients can take home.
Choosing The Whitening Treatment That Fits Your Priorities
Are you someone who wants to see results as soon as possible, or would you like to take care of your discolored teeth from the comfort of your home? We have treatment options for both, as we can create customized teeth whitening kits that you use at your convenience, or we can bring you in for a single treatment at our office. Both options rely on advanced bleaching agents to take care of stains that have accumulated on your teeth and dulled your smile.
Let's Discuss Your Other Options For Cosmetic Treatment!
Whether you have issues with intrinsic discoloration or want to change more than just the color of your teeth, you can benefit from learning more about your other cosmetic dental treatment options. For example, we can provide porcelain veneers as a solution for discoloration, dental damage, spacing issues, and general wear and tear. To target specific tooth flaws and carefully correct them, we can also provide a tooth bonding procedure.
Talk To Your Rowlett, TX Dentist's Office About Teeth Whitening Treatment
Through the work done by your dentist to whiten your smile, you can enjoy a significant change in your confidence levels. Our practice is happy to talk with you about this or any other service that can improve the way you look. If you would like to find out more, contact Rodem Tree Dental in Rowlett, TX at 972-475-2321 to set up an appointment.