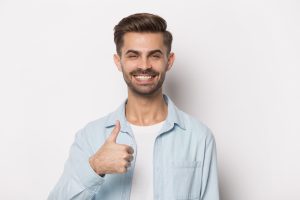 You confirm it every time you look at your smile in the mirror—your teeth are just not as white as you would like them to be. This can be an unpleasant feeling, and it can be even worse when you have already tried to do something about this with a store bought whitening kit and seen disappointing results. Fortunately, you are not stuck with your smile at this color. You can talk to your Rowlett, TX dentist's office about the benefits of a professional whitening procedure. We actually provide two different options to help you brighten your enamel, including an option that lets you address discoloration from your home while still seeing professional results!
Are You Ready To Make Your Smile Brighter?
A problem with dull, discolored teeth can certainly shake your confidence. Unfortunately, many popular foods and drinks are capable of causing dental discoloration, and it can be difficult to remove stains on your own. However, there is something that you can do to take care of this problem. Bringing up your concerns about stains with your dentist can lead to plans to make your teeth brighter through professional whitening treatment. Whitening agents that are provided by our practice can deliver bigger changes than items you can find on the shelves of grocery stores. We can actually make treatment easier to arrange by providing the option for an in-office treatment, and we also provide take-home whitening kits.
Learn About Your Options For Teeth Whitening Treatment
Should you take home a custom whitening kit and take care of your smile on your own, or should you look into treatment that takes place at your dentist's office? By meeting with your dentist to have stains removed, you can enjoy results that only take one appointment. If you prefer the idea of having your smile treated in the comfort of your own home, we can provide a custom kit that you will use to see comparable results to in-office care.
Should You Consider Another Cosmetic Service?
Not everyone who has discolored teeth needs to focus on removing enamel stains, as intrinsic discoloration is also a concern. This refers to a problem within the tooth structure that has to be addressed to improve the way you look. We do offer alternative treatments, including work with porcelain veneers, that can help with this concern.
Talk To Your Rowlett, TX Dentist About Teeth Whitening Treatment
Are you eager to show off teeth that look brighter and whiter? Do you have questions about how you can see desirable results when it comes to fighting enamel stains? At Rodem Tree Dental, we are ready to field your questions and concerns about dental discoloration, as this is one of many cosmetic issues we are happy to address! If you would like to learn how we can help you show off a better and brighter smile, contact Rodem Tree Dental in Rowlett, TX at 972-475-2321 to set up an appointment.