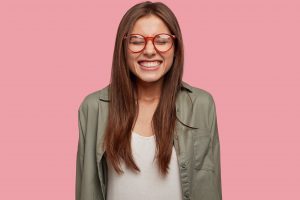 Is there anything you can do to brighten your smile if you have hard-to-ignore teeth stains? People who have noticeable discoloration may try to fight it with store bought whitening agents, but this can lead to limited improvements. To make a more significant change in the way you look, our Rowlett, TX dentist's office can recommend professional whitening treatment. With this approach to care, you can deal with deeper, tougher stains in as little as one appointment, or after a round of daily treatments with a take-home treatment. We can also help you if you have discoloration that stems from something other than enamel stains.
Are You Frustrated With The Effect Teeth Stains Have Had On Your Smile?
The worsening discoloration that you may see over time can make you progressively less happy with your smile. When compared to older pictures, you may be alarmed by just how much your teeth have dulled. Even if you make changes to avoid any further problems with dull or yellowed teeth, it can be difficult to undo the impact of the stains that are already present. Because store bought products offer results that leave many disappointed, it can be beneficial to talk to your dentist about professional cosmetic treatment. For many, a whitening treatment with more potent bleaching agents will be effective. For some, it may be necessary to explore another approach to care entirely.
Planning Your Professional Whitening Treatment
Your professional whitening treatment can see you take on discoloration in the comfort of your home, or it can involve a single appointment at our practice. If you choose to take home your whitening kit, we will provide potent bleaching agents and trays that make their application easier. An in-office visit can deliver similar results, but we can see to it that you see those changes after just one visit!
Other Cosmetic Services That We Can Discuss
Why would you look at something other than teeth whitening treatment if you want to show off brighter teeth? For some, treatment for discoloration means dealing with problems that concern the tooth structure itself and not stains that have built up. We can recommend another solution, such as the placement of porcelain veneers, to deal with this issue of intrinsic discoloration. Veneers can also help you take care of your smile by hiding damage, changing the shapes of teeth, and even covering alignment flaws.
Talk To Your Rowlett, TX Dentist About Fighting Teeth Stains
Through a professional whitening procedure or other cosmetic treatment, you can take real action against dental discoloration! Our Rowlett, TX dentist's office is happy to meet with you and discuss this procedure or any other that might interest you. To find out more, contact Rodem Tree Dental in Rowlett, TX at 972-475-2321 to set up an appointment.