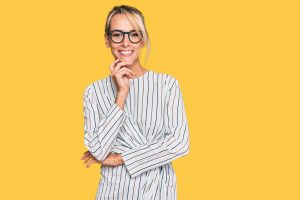 Your smile just does not look or feel right after you chipped a tooth. This is a frustrating feeling – even if you feel that your tooth is healthy, you can worry about how people respond to the sight of the damage. The good news is that addressing this issue can take less time, and less work, than you anticipate. At our Rowlett, TX dentist's office, patients who want to discuss cosmetic services for a chipped, cracked, or otherwise damaged tooth can learn about several treatment options. You should be aware that damage may prove to be more than just cosmetic. If this is the case, we can recommend treatment with a custom dental crown.
Ignoring A Chipped Tooth Can Be A Mistake
People tend to respond favorably to the sight of a healthy, symmetrical smile. Unfortunately, a single chipped tooth can make your smile feel awkward or lopsided, and it can make it difficult for you to maintain a confident, comfortable appearance. It is also possible for a "small" chip to leave your tooth more vulnerable to harm than you realize, which can result in more problems at a later date. Rather than ignore your chipped tooth, talk to your dentist about what treatment options are available to you. It can be a welcome surprise to hear how much good one conservative procedure can do for your appearance!
Scheduling Cosmetic Treatment
We can recommend different cosmetic dental services for someone who wants to address a chipped, cracked, or misshapen tooth:
By performing a tooth bonding treatment, we can cover a chip by applying composite resin to its surface. The substance will then bond to your enamel to provide long-term support. This procedure can also change the general shape and color of your tooth to deliver beneficial overall changes.
With porcelain veneers, we can cap teeth with slim restorations that cover their front surfaces. When the veneer is in position, it can hide a chip or crack, improve a tooth's color, or even cover up issues with a tooth that appears too small.
Should You Use A Crown To Restore Your Tooth?
If it is necessary to protect your tooth, we can recommend a dental crown instead of a cosmetic restoration. What makes a crown different is that it completely covers your tooth above the gum line. In doing so, it keeps you safe against further physical harm that can occur when you bite or chew. A crown can still provide esthetic changes, as we can place a restoration that imitates healthy enamel.
Talk To Your Rowlett, TX Dentist's Office About Restoring Your Chipped Tooth
Through the right treatment, we can restore your smile and your confidence in the way you look after you chip your tooth! To find out more about our services, and what we can do to address different cosmetic and oral health concerns, contact Rodem Tree Dental in Rowlett, TX at 972-475-2321.