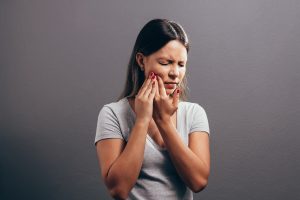 When is it appropriate to make a dental appointment over a chipped or cracked tooth? Should you be less concerned about the injury if it is difficult for others to see, or if it seems relatively minor? Any damage that affects your enamel should worry you. There is a risk for further harm to affect the tooth, and you can also be at risk for a potential infection that will require root canal treatment. Our Rowlett, TX dentist's office is prepared to help you if you experience an injury that chips or cracks a tooth, even if the matter is serious enough to require an emergency dental visit.
How Worried Should You Be About Your Chipped Or Cracked Tooth?
Even "minor" dental damage can be a cause for concern, and not just because of the way it might affect your appearance. Harm to your enamel can make you more vulnerable to infection from bacteria, which can lead to problems with pain and sensitivity while putting you at risk for tooth loss. If you continue to use the tooth when you bite and chew, it may become more damaged, which means more of your permanent tooth structure is lost.
Did Bruxism Cause Your Tooth Injury?
People who struggle with bruxism, a habit of grinding their teeth, are more vulnerable to tooth injuries because they repeatedly put pressure on them. The problem can be especially hard to address when you grind your teeth at night. Our practice can provide an oral appliance to be worn during rest. This guard keeps teeth safe so that you no longer have to worry about harm to your enamel. Some changes in your diet, like the removal of caffeine and alcohol, can help you manage your teeth grinding. Stress management and a more comfortable sleep position can also help.
Emergency Dental Visits Can Be Arranged
If you have a dental injury that causes pain, makes biting and chewing difficult, or leaves you concerned about the health of your tooth, an emergency appointment can be arranged. During an emergency visit, we can work quickly to bring you in and evaluate the matter. Once the matter is addressed, we can make sure the tooth is treated in order to address issues with pain or sensitivity.
Our Rowlett, TX Dentist's Office Can Help You If Your Tooth Is Chipped Or Cracked
Your Rowlett, TX dentist's office is prepared to help patients when they suffer dental injuries. Even if the damage seems minor, a chip or crack in your tooth can lead to serious problems if no treatment is provided. If you wish to learn more about our restorative services, or if you have any other questions about our practice, you can contact Rodem Tree Dental by calling 972-475-2321.