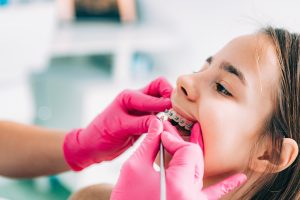 The alignment of your teeth can affect you in a couple of different ways. For one, the alignment of your teeth affects the appearance of your smile. Straighter teeth look more appealing. The alignment of your teeth also affects your bite in terms of its function and it's longevity. Teeth that are properly aligned come together evenly and allow you to chew efficiently. When your bite is in alignment, it also prevents premature wear on your teeth. Finally, straighter teeth are also easier to clean. To straighten your smile, it's a matter of choosing what level of orthodontic treatment that you need.
Orthodontic Braces Make Major Shifts to Your Bite
Orthodontic braces are made up of brackets and wires that apply consistent pressure to your teeth. This system of brackets, wires, and rubber bands will push and pull your teeth into proper alignment over time. This treatment is ideal for major cases of bite misalignment, or teeth that are exceptionally crooked. Crowded teeth can also be pulled apart using this method. Orthodontic braces typically take one to two years to align your bite, so they're a big commitment. If your teeth are significantly misaligned, this is likely the right choice for you.
Invisible Aligners Can Adjust More Minor Cases
You may have seen invisible aligner products before. They're the clear plastic aligners that straighten your teeth. This product is often preferred because it is discreet, and the aligners won't stand out in photographs. Invisible aligners are also removable, so you can take them out to eat, clean your teeth, and clean the aligners themselves. This makes them less cumbersome than traditional braces. Invisible aligners are great for making minor adjustments to the straightness of your teeth, but they don't work for major realignment cases.
Cosmetic Adjustments Can Be Made More Quickly
If your dentist or orthodontist determines that you have a misalignment issue that needs to be treated with braces, you should do so. Preventing added wear to your teeth is a good idea for your oral health future. However, if your issues are mostly cosmetic, there are alignment solutions that can act quicker. Six Month Smiles is an orthodontic treatment that focuses on the contour and appearance of your smile. Making small adjustments to the alignment of your teeth, Six Month Smiles can improve your smile with a treatment timeline that fits into your lifestyle.
Rodem Tree Dental Provides Orthodontic Treatment
In addition to a host of preventive and restorative dentistry services, Rodem Tree Dental is also proud to provide orthodontic treatment. If you need traditional braces to align your bite and preserve your teeth, we can help. If your alignment issues are cosmetic and you'd like a straighter smile, we can help with that too. Schedule an appointment at Rodem Tree Dental in Rowlett, TX by calling our office at 972-475-2321.