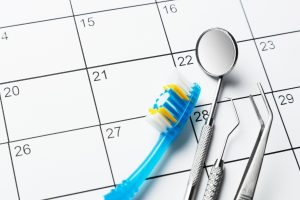 The new year is already well underway, and although it may not feel like it, now is the time to start thinking about the midway point of the year. This is especially true when it comes to scheduling your dentist appointments. Making two preventive dental appointments each year can help you combat problems like cavities and gum disease. Plus, your dental insurance plan almost certainly covers these visits. If you're going to make two appointments this year, you need to get your first appointment in by June. Depending on how busy your dentist's office gets, that may mean scheduling the appointment now.
Biannual Preventive Dental Appointments Circumvent Long-Term Damage
Your teeth are built to stand the test of time, but they need your help to do so. While your teeth are tough and durable, they still need a thorough cleaning. Professional cleanings at your dentist's office are the most effective way to remove bacterial buildup and damage. During your cleaning, your dental health professional can use tools to systematically remove the plaque and tartar that build up in difficult-to-reach places. After removing the bacteria, you'll also receive a polishing, which helps your teeth to feel clean and smooth. Preventing bacterial buildup reduces your cavity risk significantly.
Scheduling Your Appointment Now Will Give You Peace of Mind
It feels terrible to have to scramble to make plans for an appointment. It can create a source of stress that you don't need to experience. When you schedule your dentist appointments (and the appointments for your family members) in advance, you can relax. Plus, if something comes up on that date, you can move the appointment without feeling like you're in a time crunch. You don't want to miss out on dental insurance benefits that you're already paying for, especially benefits that are so helpful.
With Your Appointment on the Books You Can Prepare
It's a good idea to prepare for your dentist appointment before you visit. That doesn't mean trying to floss for the first time in six months like you're cramming for a final exam, but rather, taking stock of your oral health. Have you noticed any changes to your bite, or any developing tooth pain? These little indicators can point to potential problems that your dentist should know about. While your dentist has imaging tools to help them get a picture of what's happening in your mouth, it's still incredibly helpful to let them know what you're experiencing, first hand.
Get Your Dentist Appointment Scheduled at Rodem Tree Dental
Your oral health is something that needs consistent care. By brushing and flossing at home, as well as attending biannual dental appointments, you can keep cavities away from your teeth. At Rodem Tree Dental, you'll receive quality care that is comfortable and informative. To schedule a preventive appointment for yourself or a family member, contact Rodem Tree Dental in Rowlett, TX by calling 972-475-2321.