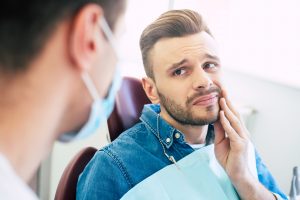 12There are few things as frustrating as dealing with unexplained pain in your body. You may wonder, should I see a medical professional about this? Is it going to go away? What's causing the problem? In cases where pain doesn't subside quickly, it's likely a sign that something is going wrong. This is true of oral health problems. If you're experiencing tooth pain that doesn't go away quickly, it may be a sign of a serious infection. The infection may be at the root of your tooth — literally. In these cases, root canal therapy can help.
When Bacteria Get Inside Your Tooth, They Can Cause Serious Harm
Bacterial infection tends to spread when left untreated. You may have experienced surface cavities on one or more of your teeth before. When these cavities go untreated, the bacteria can get deep inside your tooth. From there, the bacteria infects areas like the pulp of your tooth and your root canals. This can cause you severe pain. What's particularly scary about a root canal infection is that the bacteria can spread from the root canals to other oral tissues, causing pain in different areas of your head and throat.
Root Canal Therapy Is a Treatment that Removes Bacteria and Protects Your Tooth
Root canal therapy is a treatment that can save your tooth when its roots become infected. When bacteria get inside the roots of your tooth, your dentist needs to remove the buildup. Your dentist will extract the bacteria by carefully accessing the root of your tooth and making a small hole. Once the bacteria is gone, your dentist will fill the root with a biocompatible substance to ensure the infection doesn't return. Your dentist will then likely put a dental crown on top of the tooth to protect it from any physical or biological damage.
Untreated Infections Will Only Get Worse
Again, it can be tempting to just ride out the problem when you experience pain. If your teeth are causing you problems though, it's probably not just soreness. It's probably related to a bacterial infection that needs attention from a professional. Untreated infections in your teeth and gums will only get worse when you leave them alone. What starts out as a cavity can eventually merit root canal therapy. If left untreated, your tooth may even fall out. That's why it's best to talk to your dentist.
Treat Your Tooth Pain at Rodem Tree Dental
If you're experiencing tooth pain, make an appointment at Rodem Tree Dental. Tooth pain is typically a sign that something is wrong. At Rodem Tree, we will diagnose the condition and provide treatment to help your tooth recover. Whether it's root canal therapy, a dental crown, or a simple dental filling, we can find a solution to your issue. Schedule an appointment at Rodem Tree Dental in Rowlett, TX at 972-475-2321.