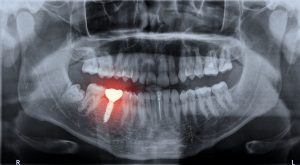 Dental implants are an incredible prosthetic option for patients that have suffered from tooth loss. Implants can recreate the power and durability of a natural tooth, unlike other prosthetic options. If you've experienced tooth loss and you want your smile back, as well as the ability to comfortably eat all kinds of foods, dental implants are the choice. The dental implant you choose does make a difference. Digital dental implants are placed using a 3D map of your mouth. They're more precise, they function better, they come with less discomfort, and they're built to last. Here's what you can expect from a digitally-imaged dental implant.
3D Navigation Implants Are Built with Precision
Precision matters when it comes to your dental implants. That's because this procedure involves surgery. You want that surgery to be as clean and minimally invasive as possible. A 3D Navigation Dental Implant is placed using a digitally rendered map of your jaw and mouth. That means that no incision is required when placing the implant. There's no cut or flap, and the procedure is minimally invasive. You'll experience less pain during the procedure, and typically a faster recovery. This precise technique also leads to better placement, based on a model simulation, and not merely the surgeons previous experiences.
Precise Dental Implants Are Also More Efficient
The dental implant treatment schedule can take up time. You have to have your mouth modeled and your implants placed. Then your jaw needs time to heal before your crowns can be placed on the dental implants. The 3D Navigation Implants are more precise, which leads to shorter recovery times, which means you can get your crown and restore your teeth faster. Finding time in your schedule for a bunch of dentist appointments can be tough. This precise method of surgery can help eliminate those barriers.
The Angle of Your Dental Implants Matters
To completely replicate your natural teeth, your dental implants have to fit just right. That not only means that they need to be spaced correctly, but the angle of the implant matters too. The correct angle can help your dental implant fit more comfortably alongside your other teeth, and it can help you chew food comfortably. The angle can also play a role in how your implant stabilizes your other teeth within your jawbone. A complete set of teeth hold one another in place so that there isn't dramatic shifting over time.
Choose Precise Dental Implants from Rodem Tree Dental in Rowlett, TX
Not all dental implants are created equally. Implants provide a complete recovery from tooth loss, but you still need those implants to function at their maximum capability. At Rodem Tree Dental, we believe in the power of digital imaging. We will create dental implants that are precise and work for your individual case. Schedule an implant consultation by contacting Rodem Tree Dental in Rowlett, TX at 972-475-2321.