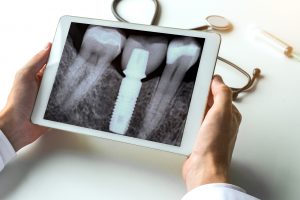 Dental implants are an incredible prosthetic option for patients who have suffered tooth loss. Losing a tooth can be a traumatic experience, and you may not know what to do in the aftermath of tooth loss. Through surgery, a dental implant can replace the roots of your tooth and give you a lifelike prosthetic tooth that allows you to comfortably eat and smile. With 3D-guided surgery, the process of receiving a dental implant gets even easier. This advanced technique leads to less pain for patients, a faster treatment time, more precise placement, and a shorter recovery timeline.
The Added Precision of Digitally Guided Surgery Creates a Better Experience
Dental implants are about your long-term oral health. You receive a dental implant to replace a missing tooth, restoring your smile and ability to eat comfortably. You want your dental implants to last you for life, so it's important that they are placed properly during surgery. Using 3D models to help guide the surgery increases precision, which leads to better placement. The end result is a bite that is comfortable and stable. You won't experience shifting or crowding after digitally guided dental implant surgery.
More Precision Also Leads to Less Discomfort and a Shorter Recovery Timeline
The increased precision that comes with digitally guided surgery is better for you in the long run, and it's better for you in the short run too. This process allows your dentist to place your dental implants with a minimally invasive technique that doesn't lead to cuts or flaps in your gums. The incisions that come with traditional dental implants can cause you pain, and they increase the recovery timetable after surgery. Digital imaging and guided implant placement ensure that every post is placed properly and efficiently.
A Shorter Recovery Time Repairs Your Smile Faster
Decreasing your recovery timeline creates a more comfortable experience for you, the patient. It also allows you to restore your smile faster, which is an important result for the process. After receiving your dental implant, your dentist will still need to place a dental crown on top of the post to complete the prosthetic. The crown creates a lifelike appearance for your tooth. Reducing your recovery timeline allows this step to happen faster, and it gives you a complete smile once again. The advantages of 3D digitally guided surgery reward you throughout the process.
Rodem Tree Dental Uses Digitally Guided Surgery
Dental implants are the best option for creating a full recovery after losing a tooth. At Rodem Tree, you can experience the comfort and precision that comes with digitally guided implant surgery. Don't continue suffering from tooth loss. Schedule an implant consultation by contacting Rodem Tree Dental in Rowlett, TX at 972-475-2321.