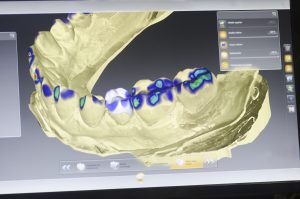 Dental implants are a favorite dental prosthetic amongst dentists because of their strength and versatility. Dental implants provide support and comfort that will serve you for the rest of your life. Adult tooth loss is a serious condition that can have long-term consequences if left untreated. Dental implants provide a root-like structure for your dentist to add a dental restoration. So what is a digital dental implant? Your dentist may actually have technology to make the process of receiving an implant easier and quicker than ever.
A Digital Dental Implant Is Created Right in Front of You
For your dental implant to be as effective as possible, it needs to fit the specifications of your mouth. You need to be able to trust that your dental implant will fit comfortably alongside your other teeth. Advanced digital imaging technology can provide you that peace of mind. Digital imaging technology creates a precise image that can be used to place your dental implant with the proper position and angle. This image can be rendered as it's captured, meaning your dentist can use the accurate information right away.
Digital Dental Implants Are Strategically Placed
The function of all dental implants is essentially the same. These prosthetics are used to give stability and bite power to the recipient. However, based on your individual situation and the utility of the implant, your implant will have to be strategically placed. Your dentist will ensure that the implant is placed at the correct angle and the correct distance apart from your other teeth. Digital imaging allows for guided implant placement that is more accurate and leads to better results for the patient.
With an Implant in Place, Your Dentist Can Finish the Restoration
Your dental implant serves as the base for your replacement tooth. With proper placement, your dental implant will be ready to be capped with a dental crown or bridge. The crown or bridge will give you a chewing surface, and it will complete the esthetic restoration of your tooth. These restorations are used to protect and replace teeth, but without the implant in place, they don't have the same effectiveness. Your dental implant will prevent shifting or sliding of your prosthetic. This way, you can comfortably eat the foods that you enjoyed before suffering tooth loss.
Rodem Tree Dental Uses Digital Imaging for Dental Implants
Make sure that your dental implant will work for your specific situation. Advanced digital imaging can ensure that your implant is placed with the optimal angle and spacing for you. Learn about digital dental implants at Rodem Tree Dental. Rodem Tree utilizes advanced technology to give you the best experience possible. You can schedule an implant consultation by contacting Rodem Tree Dental in Rowlett, TX at 972-475-2321.