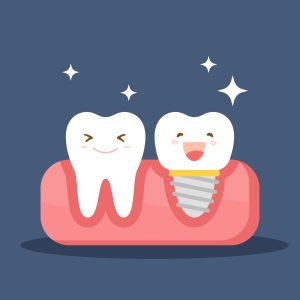 It's possible that you are facing a tooth extraction. Or maybe the loss has already occurred, and you are looking for a suitable permanent replacement. For some people, the decision on how to move forward can be a little overwhelming, as it can truly alter the way you approach your oral health.
Every dental situation is a little different, so it is important to find the correct solution for you and your needs. The use of surgery is not something we take lightly, and for good measure. So the more you can familiarize yourself with your options, the better!
Today, your Rowlett, TX dentist writes on some of the most common replacement methods, so you might be able to make the best decision possible!
A Solid Connection
The use of dental bridges is one of the most tried-and-true surgeries in our field. This entails placing two crowns on either side of a gap, with a prosthetic between the two.
The new replacement will serve functionally as your previous natural material did. If the rest of your mouth is healthy enough to support the rigor of additional strain, then a bridge might be a suitable option for you. However, if there are concerns as to the health of your remaining structures, this might only add to the problem.
A Custom Fit
For patients with more extensive damage, the use of a partial denture may be more appropriate. These also may fit better for people with a larger amount of loss, or one in a unique area. For whatever reason, trust your dentist if they suggest that more support is necessary. Prosthetic failure can create lasting harm, so it is important to approach things right the first time.
These may include a form of enclosure or clasp to ensure that it stays in place throughout the day. The connection to the face may help to retain bone material, as well.
Technological Advancement
For those seeking the most cutting-edge approach, dental implants can be used to recraft your smile. Titanium posts form the base of an implant solution, and this material works alongside our immune system through a process known as osseointegration.
The customization is endless with this technology, from single-tooth solutions to a full set of implant-supported dentures. This is one of the fastest-growing areas of prosthodontics, where entire mouths are replaced by dentures. But instead of traditional adhesives and glues, they are held through the use of these titanium posts.
These have multiple benefits over traditional methods, as they will maintain or even strengthen your bite. And they don't cover the roof of your mouth, which adds comfort and reduces the possibility of infection!
ABOUT YOUR ROWLETT, TX, FAMILY DENTIST:
At Rodem Tree Dental, Dr. Ellen Nam and her team use their talents and training to better serve their patients. They offer a full array of general, cosmetic, and restorative treatments for adults and children alike. Their passion and dedication is evident in their gentle, personalized treatment. To schedule an appointment, call our dental office in Rowlett, TX, today at 972-475-2321. Though located in Rowlett, we proudly welcome patients from Rockwall, Garland, Wylie, Sachse, and all surrounding communities.