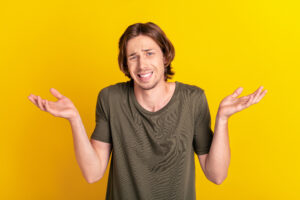 There are different threats to your smile that you should be aware of in order to preserve both your appearance and your health. It is important to take problems with tooth decay, tartar buildup, and gum disease seriously, but not all of the threats to your smile can be controlled with your hygiene routine. Many people experience problems because of unresolved issues with bruxism, or habitual teeth grinding. If you are grinding and clenching your jaw at night, you can do real damage to your enamel. This is more than just a concern for your smile, as it can also make you vulnerable to damage that negatively impacts your oral health. Our Rowlett, TX dentist's office can help by providing a custom appliance to protect your enamel while you rest.
How Worried Should You Be If You Show Signs Of Bruxism?
If you have symptoms that point to an issue with bruxism, it is important that you let your dentist know before the problem worsens. While treatment can take place before you have to worry about permanent dental damage, the continued friction from grinding and clenching can eventually cause cosmetic as well as oral health troubles. In addition to reaching out directly because you have concerns about this issue, you should know that your dentist can look out for the warning signs of bruxism during a routine dental exam.
We Can Provide A Custom Appliance To Protect Your Teeth
Through the use of a custom oral appliance, we can help you take care of your smile and prevent further wear and tear from grinding. The appliance's personalized design makes it easier to keep in position so that you do not have to worry about it slipping out of place or causing discomfort. With it in position, your teeth remain apart, and you can reduce pressure generated by grinding that can negatively affect your jaw joints and muscles.
Restoring Damaged Enamel And Injured Teeth
If you already have problems with teeth that are worn, chipped, or even cracked because of your condition, we are ready to help! Treatment is planned around the state of your smile when you seek help. If the problems with wear and tear are only superficial, we can recommend that you have cosmetic dental work done to maintain your appearance. However, if there are teeth that require more support, we will recommend that you have dental crowns put in place to protect them.
Talk To Your Rowlett, TX Dentist About Bruxism Treatment
If you need to schedule treatment for bruxism, we can help you make sure that your smile is safe, and that the problem stops causing you physical discomfort. If you would like to learn more about how we can help you, contact Rodem Tree Dental in Rowlett, TX at 972-475-2321 to set up an appointment.