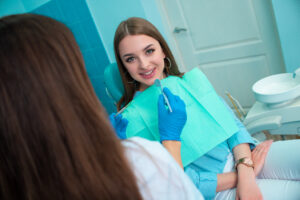 How worried should you be about plaque buildup on your smile? When you stick with good brushing and flossing habits, and take thorough care of your teeth each day, you can fight the accumulation of this substance effectively. Doing this protects you against the onset of cavities and gum disease, and it helps you avoid trouble caused by the formation of tartar deposits that are difficult to remove. While you can do important work to protect your smile at home, you should also take advantage of the preventive services that are offered by your Rowlett, TX dentist. At routine dental exams and cleanings, your teeth will have plaque and tartar buildup removed so that these accumulations no longer pose a threat to your appearance and oral health.
Why You Should Be Concerned About Plaque Buildup On Your Teeth
Throughout the course of a typical day, oral bacteria and debris from meals and snacks can build up on our teeth. When we brush and floss, we can fight the accumulation of these substances and stop plaque and tartar buildup. With a routine that consists of two brushing sessions and one flossing session a day, you can do good work to control your oral hygiene and prevent trouble. Does this mean you can replace in-office preventive care with better habits at home? There are several reasons why you should treat these visits like a priority even when you have a good routine in place. These reviews can lead to the discovery of problems you have overlooked, and they can ensure that plaque as well as tartar buildup remains effectively managed.
How Regular Dental Visits Help You Maintain Your Oral Health
At your scheduled dental exams and cleanings, your oral health is supported in several ways. You will receive support through reviews provided by your dentist. In the course of a review, we can let you know if there are any issues with your oral health that make restorative dental work necessary, or if there are signs of other problems, like TMJ disorder or teeth grinding, that should be managed. Your hygienist will clean away all plaque and tartar buildup found on your smile. This is especially important for the removal of tartar. Once plaque calcifies, a deposit can prove difficult for you to dislodge on your own, making professional care necessary.
Talk To Your Rowlett, TX Dentist About Scheduling Regular Dental Cleanings
With a combination of good habits at home and regular cleanings provided during preventive appointments, you can keep your smile safe from a variety of different threats. If you would like to find out more about how our practice can help you take great care of your teeth and gums, please contact Rodem Tree Dental in Rowlett, TX at 972-475-2321 to set up an appointment.