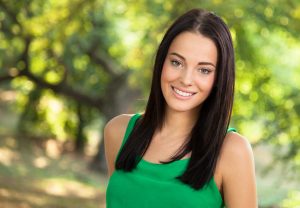 Why do patients at our Rowlett, TX dentist's office inquire about cosmetic dental work? Sometimes, the goal of treatment is to address a recent issue with a dental injury, or a means of addressing accumulated teeth stains. At other times, naturally occurring problems with the shape, size, or alignment of teeth can be the root of a person's concerns. In these different situations, porcelain veneers can prove to be an effective treatment. Your custom restorations can cover the front surfaces of your teeth so that they look healthy, natural, and free of any conspicuous flaws. After just two visits, you can see results that give you a stunning, confident smile!
Are You Ready To Show Off A More Attractive Smile?
There are different reasons why people start to feel that their smile is less than attractive. Even a minor injury that chips or cracks your enamel can cause problems for the way you look. For people with naturally occurring issues with the shape, size, or color of teeth, it can be hard to feel confident due to an asymmetrical, uneven appearance. With porcelain veneers, you can address these different problems. Their placement can cover many different problems while only covering the front surfaces of your enamel.
How Do Veneers Take On Several Issues At One Time?
Veneers fully cover the front surfaces of teeth. Unlike dental crowns, which completely cap your teeth, veneers are capable of making significant changes while only covering their fronts. When in place, that coverage is enough to hide problems with tooth shape, size, and color from view, giving you a smile that looks natural and attractive. The way your veneers are spaced can even help improve your smile by hiding problems with gaps and overlaps.
Discussing Other Cosmetic Services With Your Dentist
There are different approaches that we can take to help you show more confidence in the way you look. Through teeth whitening treatment, we can directly deal with enamel stains that have been picked up over time. The particles left behind by foods, beverages, and tobacco products can gradually hurt your appearance, and it can prove difficult to remove discoloration with store bought products alone. We can also discuss tooth bonding treatment to cover different flaws. Bonding makes the placement of custom restorations unnecessary, which can lead to your treatment being completed in a shorter time.
Talk To Your Rowlett, TX Dentist About Veneers!
With porcelain veneers, you can make many different changes to your smile. You can make your smile brighter, restore damaged or misshapen teeth, and even cover problems with poor spacing. Our Rowlett, TX dentist's office offers this as one of several procedures that can improve the way you look. If you would like to learn more, or if you have questions about other oral health services, call Rodem Tree Dental today at 972-475-2321.