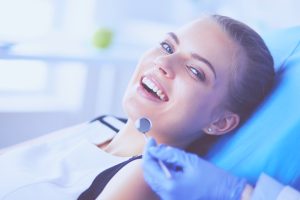 At every routine dental visit, your teeth are carefully cleaned. These sessions are important for your long-term dental health, and they can protect you in ways you may not realize. One thing to remember is that the care provided during these routine services protects more than just your teeth. The removal of oral bacteria will also keep you safe against gingivitis. At our Rowlett, TX dentist's office, we help patients stay current with preventive care in order to lower their risks for tooth decay, gum disease, and any other issues that can be identified in the course of an oral health evaluation.
Are You Making Yourself Vulnerable To Gum Disease By Skipping Dental Exams?
If you want to prevent cavities, you should see your dentist on a regular basis. You also need to implement and maintain a good oral hygiene routine at home that will see you brush at least twice and floss at least once. Remember that your daily efforts help you with more than just dental decay. By removing plaque and preventing the formation of tartar, you will also lower your risk for problems with gingivitis. This is an important benefit, one that you should not dismiss. The most common reason people lose teeth is because they have issues with gum disease that they did not manage properly! An advanced infection can also create issues for you when oral bacteria that gather under your gums move through your bloodstream and create issues elsewhere in your body.
Routine Preventive Care And Gingivitis
Regular dental exams and cleanings provide valuable defense against gingivitis. Cleanings that your dentist will provide remove the harmful bacteria that can gather on the roots of your teeth and make trouble for your well-being. The better you are about controlling your exposure to harmful microbes, the less likely you are to have gingivitis, or experience complications from an infection that become harder to manage.
Other Benefits To Consistent Preventive Services
Preventive appointments help lower your risk for a variety of possible problems with your well-being. For example, you can count on us to protect you against complications from tooth decay by recognizing cavities in their earlier stages and providing dental fillings. You can also look forward to timely interventions when you have issues with bruxism, a teeth grinding issue that can create serious problems for your enamel.
Talk To Your Rowlett, TX Dentist To Schedule Your Next Teeth Cleaning
Teeth cleanings provide a valuable line of defense against problems with your gums as well as your teeth. The more consistent you are about visiting your dentist for regular reviews, the less likely you are to experience complications from these problems that hurt your smile and overall health. If you would like to learn more about how we can take care of you on a regular basis, contact Rodem Tree Dental in Rowlett, TX at 972-475-2321 to set up an appointment.