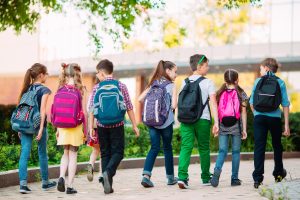 As you prepare to send your children back to school, you're likely struggling to find supplies, new clothes, and juggling other items on your list. But don't forget about their smile! A checkup before the year starts ensures they start with a healthier smile. In today's blog, your Rowlett, TX, dentist talks about scheduling a back-to-school dental checkup.
The Benefits of an Exam
When your child has a checkup, we have a chance to carefully examine the teeth and gum with advanced technology. The digital x-rays and intraoral images let us diagnose the smile with precision and accuracy, uncovering the earliest stages of common issues like tooth decay, dental infection, gingivitis, and misalignment. We also make sure baby teeth are falling out as expected, and that permanent teeth erupt correctly. Issues could then be addressed before they threaten the stability of the smile. Routine visits have also been shown to reduce dental anxiety in young children and instill good oral health habits. They may even be more likely to continue seeing the dentist when they grow up!
Preventive Treatments for Cavity Prevention
In addition to an exam and a cleaning, we also offer preventive treatments to keep little smiles safe. For example, we can provide a fluoride varnish every six months, which helps strengthen the outer enamel to keep the smile strong. We also have dental sealants too, which are an acrylic coating placed on the rear molars. These teeth are often difficult for kids to reach when they brush and floss, so the sealants help prevent food from becoming attached to them, lowering the risk of tooth decay. The sealants then stay in place for between 5 and 10 years on average!
Better Oral Health Habits at Home
The new school year is a great time to really set a routine, as children often lose their routines during the summer break. Make sure your kids are brushing twice a day for two minutes, and using a fluoride toothpaste when they do. Each session should take about two minutes, so you can use a fun song or app to time them. Kids also need to floss every evening, and if possible, cut back on the consumption of sugary foods and drinks. Be sure to also continue seeing us every six months for a checkup and cleaning visit as well. If you have any questions about how we protect little smiles with a checkup and cleaning, or if you would like to schedule one for your child, then contact our team today.
TALK TO YOUR ROWLETT, TX DENTIST ABOUT CHILDREN'S DENTISTRY
Our Rowlett, TX dental office wants to make sure your kids start back with a healthy and bright smile. To learn more about our approach to children's dentistry, or set an appointment, contact Rodem Tree Dental in Rowlett, TX at 972-475-2321.