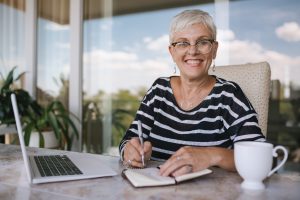 What role does implant dentistry play in giving people back their complete smiles? This approach to prosthetic dental treatment gives patients the ability to receive permanent dental restorations. We can use a single dental implant to hold one restoration, or we can make plans to use multiple implants to hold a larger prosthetic appliance. At our Rowlett, TX dental office, we actually rely on digital technology that can improve a person's experience with dental implant placement. This technology enables us to locate just the right position and angle for an implant. That leads to more secure placement, which can provide more support for your prosthetic restoration over time.
Are You A Good Candidate For Implant Dentistry?
Tooth loss is a serious oral health concern, one that can lead to more complications as time passes. The initial concerns you can have may resolve around both your appearance and your ability to bite and chew without difficulties. Over time, problems with jawbone deterioration, which leads to more cosmetic concerns as well as difficulties with your oral health.
Someone who has lost teeth can benefit from dental implant placement, as it can lead to the restoration of their full smile with a permanent, lifelike prosthetic appliance. One thing you should know is that your tooth loss issues can grow more worrying over time as jawbone deterioration occurs. This loss of density can lead to trouble with implant placement, as you may not be ready to successfully go through this procedure. If this is the case, we can make plans to address a lack of bone density, problems with periodontal disease, or any other issues that can affect your candidacy.
Receiving Your Dental Implant
With our digital imaging technology, we can carefully determine where an implant should be placed. Proper positioning and angling are both important, and the way your placement is approached can have serious impact on your well-being over time. With our digital technology, we can make sure we locate the ideal location for an implant, or multiple implants for those who need to secure a larger restoration like a dental bridge. Digital implant placement also leads to a less invasive procedure, one that can lead to a more precise and comfortable experience.
Adjusting To Life With Your Restored Smile
After you regain your complete smile, you can count on regular dental exams to keep you informed about the state of your restoration and remaining natural teeth. These appointments provide valuable feedback, and they lead to better protection against future oral health issues. If necessary, your dentist can alert you to any concerns that do arise after your procedure and address them accordingly. Just as your habits can affect the health of your natural teeth, poor hygiene can make you more vulnerable to problems with bacteria that may affect your procedure.
Talk To Your Rowlett, TX Dentist About Digitally-Placed Dental Implants
With digital imaging technology, we can improve a patient's experience with dental implant placement. To find out more, please call Rodem Tree Dental in Rowlett, TX at 972-475-2321.