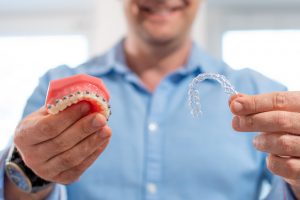 For some people, orthodontic treatment is an attractive treatment option because it can deliver meaningful smile improvements, but it can also be an intimidating one. Older teens and adults can feel self-conscious about wearing metal braces, which can dampen their enthusiasm for treatment even when malocclusion impacts both their oral health and appearance. When you discuss treatment at our Rowlett, TX dentist's office, you can find out about the benefits of treatment with Invisalign aligners instead of metal braces. Both options are capable of addressing problems with teeth that overlap or have spaces between them. However, those who qualify for treatment with Invisalign can make these corrections while drawing less unwanted attention. Even if your dentist recommends metal braces, remember that this temporary treatment is capable of improving your smile and protecting you against potential oral health complications!
Can I Qualify For Treatment With Invisalign Instead Of Metal Braces?
While some patients are advised to use traditional metal braces instead of clear aligners, many people can qualify for Invisalign treatment. If you qualify, you can enjoy corrective work that is easier to fit into your daily life as well as less conspicuous. Clear aligners are made to be difficult to notice, so they can be worn with more confidence in social and professional environments. They are also removable, which means they are not going to be an obstacle to work around when you eat or clean your teeth.
What To Expect When You Address Dental Flaws With Clear Aligners
As different patients with malocclusion face different alignment concerns, Invisalign treatment is personalized. That means the aligners you receive will be custom-made to fit your smile and make carefully planned corrections. You will move from one appliance to the next when you begin Invisalign treatment. With each appliance you graduate to, you will be one step closer to your ideally aligned smile! Remember that while you can remove Invisalign appliances on your own, you should keep them on for as much of the day as possible to stay on track with your adjustment.
The Importance Of Orthodontic Treatment
Orthodontic treatment is about more than just giving a person a more confident smile – treatment can also be good for your oral health. When you fix gaps and overlaps between teeth, you fix potential bite imbalances that make you vulnerable to TMJ difficulties. You also straighten teeth that may be difficult to keep clean due to the way they overlap each other.
Talk To Your Rowlett, TX Dentist About Treatment With Clear Aligners
Rodem Tree Dental is ready to meet with patients who hope to fix problems with poor smile alignment. In addition to offering treatment with traditional orthodontic appliances, we are able to provide care in the form of Invisalign aligners! To learn more about these appliances, or to discuss any other services that interest you, call our Rowlett, TX dentist's office today at 972-475-2321.