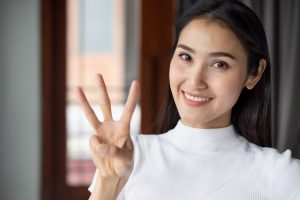 Good oral hygiene protects you from tooth decay and gum disease. These issues can be successfully prevented with good daily habits, and with regular trips to see your dentist for routine dental exams. Unfortunately, these are still common issues, as people can fail to see the shortcomings in their approach to care. If you do not address poor habits, you will face more tartar buildup, experience more risks for tooth decay and gum disease, and generally have a difficult time maintaining your appearance. Our Rowlett, TX dentist's office can work with you to find and address shortcomings in your routine during a regular dental checkup. You also receive thorough teeth cleanings at these visits which remove harmful tartar and plaque.
1. You Lower Your Risk For Cavities
Simply put, cavity problems make trips to the dentist's office necessary. Until you undergo the appropriate restorative dental work, decay will worsen and destroy more of your enamel. Eventually, the problem can lead to an infection that makes you vulnerable to losing your tooth! Be consistent with both brushing and flossing your teeth in order to avoid the accumulation of bacteria and harmful food particles that cause cavities.
2. You Are Less Likely To Develop Gingivitis
You should not ignore your periodontal health when you want to maintain a quality smile. Many people fail to see the long-term threats associated with gum disease, which will leave them vulnerable to serious trouble, including tooth loss! Flossing is a valuable asset in your gingivitis-fighting efforts. When you floss, make sure you clean at the base of your teeth. This clears away harmful bacteria at the base of your teeth that can travel below your gum line and create difficulties for you.
3. You Can Preserve Your Confident And Attractive Smile
Better preventive dental care will help you hold onto a smile that is healthy, bright, and free of embarrassing issues like tartar buildup. When you brush and floss, you remove harmful bacteria, particles that stain teeth, and more. Fighting gingivitis helps you by protecting you against gum line recession. Remember that your dentist also has a key role to play in preserving your smile. Be consistent with regular dental exams every six months, unless your dentist tells you to follow a different time line.
Talk To Your Rowlett, TX Dentist About Better Oral Hygiene Efforts
Rodem Tree Dental is happy to help patients of all ages protect their teeth and gums from threats created by oral bacteria. At every exam, you will receive a thorough review and cleaning that will help you avoid difficulties over time. If you have questions, or if you need to schedule an appointment, please reach out to our dentist's office in Rowlett, TX at 972-475-2321.