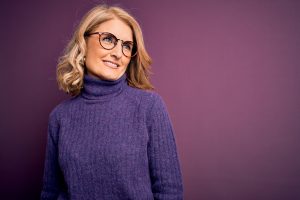 Thanks to implant dentistry, you can regain your smile and improve your bite function in the new year! Dental implants provide permanent security for replacement teeth, which means they will remain in place throughout the day, even as you bite and speak. Your Rowlett, TX dentist can meet with you to discuss how the placement of a dental implant, or multiple implants to hold a larger restoration, can provide long-term advantages. Our office relies on digital imaging technology when we plan treatment with implants. With this technology, we will be able to determine just the right angle and location for a dental implant that you will receive. Proper placement is important, as it affects the degree of support that you can enjoy from your dental restoration over time.
What Role Do Dental Implants Play In Prosthetic Treatment?
Dental implants hold replacement teeth in place. Because they secure restorations to your jawbone, their role is similar to the one played by the roots of your natural teeth. In fact, implants do something that your roots do – they stimulate your jawbone when you eat and speak. After losing teeth, you are not able to produce this stimulation, even when you have a prosthetic without an implant's support. Over time, this leads to the loss of jawbone density because the stimulation is needed to signal your body to move nutrients to the bone.
We Use Digital Imaging Tools To Determine The Precise Placement Of Your Implant
Dental implants are used to permanently place prosthetic teeth. Because of this, it is important that they provide the most support possible. While the titanium material used to make implants is strong, the ideal support requires careful placement. With an implant in the right position, and at the ideal angle, you can use a dental crown, bridge, or denture to bite and chew over time without difficulties! To ensure the right placement occurs, we use digital imaging technology when planning your placement.
Life After Your Prosthetic Dental Work Is Complete
What will change after you receive your dental implant-held restoration? The first change is the return of your full smile! Your smile can look younger and healthier when a lifelike prosthetic appliance has closed a gap. Another change to look forward to is the restoration of your stable, strong bite. By regaining the ability to eat a wider variety of foods, it will be easier for you to maintain a healthier and richer diet!
Talk To Your Rowlett, TX Dentist's Office About Implant Dentistry!
Through implant dentistry, our practice helps patients regain bite support while improving their appearance and oral health. If you want to make restoring your full smile one of your new year's resolutions, contact Rodem Tree Dental in Rowlett, TX at 972-475-2321.