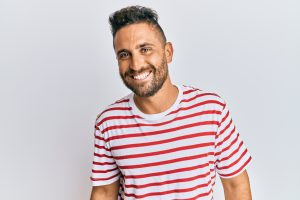 Problems with your smile alignment can be difficult to hide, and they can make it difficult for you to feel truly confident in the way you look. Emphasis is often placed on symmetry when it comes to what makes a smile attractive. Malocclusion, or problems with poor alignment, can take this away from a person. What you might not realize is that gaps and overlaps between teeth can also have negative effects on your oral health! At our Rowlett, TX dentist's office, patients who are concerned about poor alignment can make plans to improve the way they look with Invisalign appliances. Unlike traditional braces, Invisalign aligners are clear and removable. This makes the overall process of fixing your alignment issues easier while still delivering the results you want!
Why Choose Invisalign Over Other Appliances?
Both Invisalign aligners and traditional braces are capable of fixing issues with malocclusion that cause gaps between teeth, issues with overlaps, or other alignment flaws. While it may be necessary to deal with more severe alignment issues with traditional bracket-and-wire braces, many people can have their issues resolved with Invisalign appliances, which can make the treatment experience easier. You will be able to remove your aligners whenever you eat, or when you are about to clean your teeth. When they are in place, you can feel comfortable with the way they look, as they can be difficult for people to notice.
Beginning Treatment With Invisalign
Invisalign treatment relies on a series of aligners, each one designed to bring your smile a step closer to being properly adjusted. Your dentist will take close measurements of your teeth before your treatment begins. These measurements make the creation of custom appliances possible, and it can ensure that they fit securely and work effectively at moving your teeth into their desired positions. While you have the freedom to remove your appliances whenever you wish, be sure to wear them for as much time as possible to stay on top of your adjustment and complete treatment in time.
How Orthodontic Treatment Improves Your Oral Health
Through orthodontic treatment, you can see the kind of exciting smile improvements you have longed to show off. With that said, this is more than just a cosmetic dental service provided to people who want to change the way they look. When your teeth are straightened, it becomes easier for you to maintain an even bite, which is important for lowering stress that can cause TMJ disorder. By fixing teeth that overlap, you can also make it easier to keep your teeth clean.
Talk To Your Rowlett, TX Dentist About Invisalign
At Rodem Tree Dental, patients who are tired of feeling self-conscious about alignment flaws can learn how the right orthodontic treatment can change their appearance and dental function! To find out more, please call our dentist's office in Rowlett, TX at 972-475-2321.