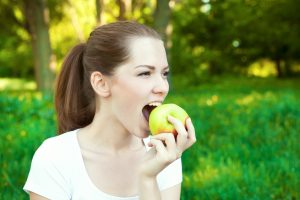 Feeling self-conscious about your smile because of malocclusion is certainly valid. An interest in cosmetic changes can motivate many people to explore their options for orthodontic treatment. What you should know is that corrective work is also able to deal with problems that affect your oral health! At our Rowlett, TX dentist's office, patients who have problems with the spacing and alignment of their teeth can meet with us and learn about the advantages of different procedures to correct these flaws. With your correction complete, you can actually change your bite by making it more even, which can reduce the stress on your joints and muscles. Once this is done, you can be less likely to overuse certain teeth, and you lower your risk for chronic jaw pain.
Unresolved Problems With Your Bite Can Lead To Chronic Pain
If you are not dealing with your malocclusion, you can struggle with oral health issues as well as concerns about your appearance. Proper bite function depends upon your ability to evenly apply pressure when you bite down or release pressure. Crooked teeth can make this difficult, which can lead to awkward movements that increase stress and apply pressure unevenly. The stress this creates can lead to TMJ problems, which can result in jaw stiffness, pain, teeth grinding concerns, and other problems. You can also use certain teeth more than others, creating more wear and tear that negatively affects them!
Scheduling Orthodontic Work To Improve Your Bite And Appearance
Through the use of a personalized orthodontic treatment, we will be able to gradually and permanently move your teeth into better positions. The braces placed on your teeth will carefully move them through time. Over time, your appliance will close any gaps between teeth, or straighten out teeth that overlap in awkward ways. While people often think of orthodontic treatment as something that occurs in childhood or teen years, it may be necessary later in life as teeth can gradually shift. If this happens, addressing the problem will improve your smile and protect you from the potential effects this can have on your oral health.
Can You Qualify For Six Month Smiles Treatment?
For some patients, orthodontic work can be completed in as little as six months! With the Six Month Smiles treatment, we can prepare you for an orthodontic correction that is intended to move teeth in less time and produce results without the wait people often associate with braces.
Talk To Your Rowlett, TX Dentist's Office About Orthodontic Treatment
Rodem Tree Dental is prepared to help patients who are concerned that poor smile alignment is affecting their appearance and oral health. To find out more about the benefits of orthodontic treatment, call our dentist's office in Rowlett, TX at 972-475-2321.