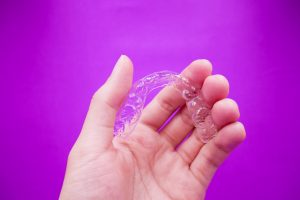 As you start to look into orthodontic work, you should know that you have more options than just treatment with traditional metal braces. People who want to fix smile gaps and overlaps, but feel reluctant to have a permanent appliance put in place, can opt to have Invisalign treatment. Invisalign appliances are clear, making them difficult to notice, and they can be easily removed by you whenever they might be in your way. At our Rowlett, TX dentist's office, we are prepared to help patients who want to know their options for orthodontic treatment. Fixing smile flaws connected to malocclusion can do more than just change your smile – by committing to orthodontic work, you can enjoy real oral health benefits!
Using Clear Aligners Instead Of Metal Braces
While traditional metal braces that rely on brackets and wires for an adjustment have proven effective at helping people, patients are sometimes hesitant to agree to wearing them. For older patients in particular, wearing braces can feel awkward. You may feel uncomfortable with the idea of having an appliance that is not removable on your teeth. By choosing clear aligners instead of this traditional approach, you can avoid these issues. Invisalign offers a less intrusive, more patient-friendly means of correcting problems with the way your teeth are spaced, opening people up to orthodontic work who have hesitated in the past.
Orthodontic Work Can Help With More Than Just Changing Your Smile
Why should you consider fixing problems with your smile alignment? While this work does lead to smile improvements, it offers more than a typical cosmetic dental procedure. A better-aligned smile can provide better bite support, which means that you can create less stress on your joints and muscles when you bite and chew. Better alignment can also make it easier for you to keep your smile problem-free. When teeth overlap, it may be difficult for you to effectively clean them – having them straightened puts a stop to this issue!
Want To See Results In A Short Time? Ask About Six Month Smiles!
If you are eager to finish orthodontic work in the shortest time possible, look into treatment with Six Month Smiles! This approach to orthodontic work focuses on the esthetic benefits of an adjustment, and can be tailored to improve your smile in a shorter time. After an initial evaluation, we can determine if this is the right approach for you.
Talk To Your Rowlett, TX Dentist About Invisalign
Rodem Tree Dental is ready to help patients fix concerns that they have with the alignment of their teeth, even if they are hesitant to move forward with traditional orthodontic work. If you would like to learn more about Invisalign treatment, or any other service we provide, please call our dental office in Rowlett, TX at 972-475-2321.