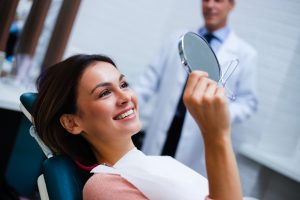 In the course of a routine dental exam, your Rowlett, TX dentist is going to take a close look at your smile and determine if there is any cause for alarm when it comes to dental decay. The early recognition and treatment of cavities helps you because it lowers the amount of work ultimately needed to restore a tooth. Of course, as important as support against tooth decay is, it is not the only matter that concerns your dentist when evaluating your smile. Your review also includes time to check for jaw problems like TMJ disorder, signs of teeth grinding, and problems with your periodontal health.
Cavity Trouble Is Just One Concern To Discuss At A Dental Exam
Why is it important to have your smile checked for cavities on a regular basis? If you are not having your smile evaluated for signs of decay, a cavity can form and spread without your realizing it. All of the damage experienced from tooth decay is permanent, so the more time you spend suffering from this problem, the more tooth structure you lose. Eventually, the damage can grow severe enough to cause an infection. Infections have to be treated through root canal therapy – if this service is not provided, bacteria can spread through your tooth, which can be lost.
What To Expect When An Issue Is Identified
Any time a problem is identified during a routine exam, your dentist will take the time to explain what the matter is, and what can be done to address it. In addition to identifying signs of decay, we can discuss problems with jaw pain, stiffness, or sensitivity that point to TMJ disorder. Treatment to restore the alignment and movement of your jaw can help you deal with chronic aches and pains. We can also talk about using an oral appliance to keep your teeth safe from bruxism, a habit of teeth grinding. For those who have symptoms of gum disease, we can provide a deep cleaning to remove harmful bacteria that are accumulating below your gum line.
Routine Exams Also Protect You By Offering Teeth Cleanings
Routine appointments will include teeth cleanings as well as checks for active problems. When your smile is cleaned, it becomes less likely to have issues with decay or gingivitis at your next appointment. One thing that makes this service particularly valuable is the removal of tartar. You can fight tartar buildup at home by brushing and flossing consistently. Once this substance is present, deposits will not budge until your hygienist takes care of your smile.
Talk To Your Rowlett, TX Dentist's Office About Scheduling Your Next Exam
At Rodem Tree Dental, patients can look forward to dedicated smile care during routine reviews, as well as restorative dental work in the event a problem is identified. To learn more, call our dental office in Rowlett, TX at 972-475-2321.