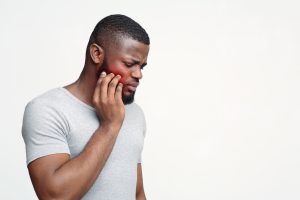 There are several issues that can lead to problems with dental pain or sensitivity. With that in mind, it may not surprise you to know that different treatments can be recommended for patients who struggle with this form of discomfort. Our Rowlett, TX dentist's office is prepared to help you understand why you have started to deal with this issue, and to present a solution that can help you move past it. Your issues may stem from changes in your gum line, gradual enamel erosion, or a problem with teeth grinding and clenching. If your pain or sensitivity affects a single tooth, it may be necessary to arrange restorative dental work. It should be noted that patients who experience high levels of pain or sensitivity can reach out to arrange emergency dental work.
Dealing With Pain Linked To Teeth Grinding And Clenching
Grinding or clenching your jaw can lead to several issues that are linked to dental sensitivity. Over time, an untreated issue can lead to the recession of your gum line, or to the gradual erosion of your enamel. You can even experience chips and cracks that negatively affect your oral health! Upon studying your teeth, your dentist can determine how much wear and tear you have already experienced. If this problem is addressed in time, your sensitivity can be addressed through an oral appliance that keeps you from grinding your teeth at night.
Addressing Concentrated Tooth Pain
If you have pain in a single tooth, or if a particular tooth has grown sensitive, you should know that it may be an issue with an infection. Treating an infected tooth can stop your discomfort and also protect you from potentially serious complications. This work can be done through a root canal procedure. Once the root canal is performed, you can receive a dental crown for lasting protection.
Significant Pain May Call For Emergency Treatment
Are you having a hard time ignoring the pain you feel? If you are, the idea of waiting for a convenient appointment time can feel unbearable. Severe pain can call for treatment on short notice. We can provide emergency services for our patients when they have an issue with pain, or when they need help with an injury. After bringing you in, we can see what it will take to put a stop to your pain!
Your Rowlett, TX Dentist Can Help You Deal With Dental Discomfort
Our Rowlett, TX dentist's office is prepared to help patients when they struggle with dental discomfort. Once your problem is identified, we can work out a plan to treat you so that you can move past it. If you would like to learn more about what we can do for you, or if you wish to learn more about our practice, call Rodem Tree Dental at 972-475-2321.