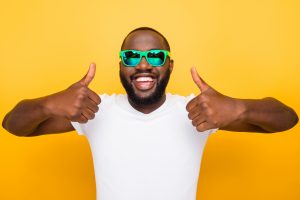 Cosmetic improvements to your smile can make you feel more confident and comfortable in social situations, professional situations, and it can raise your self esteem. The goal of cosmetic dentistry is to help your teeth look their best. That can be done with treatments that brighten the appearance of your teeth or make them all look more proportional in size. Another significant component of the cosmetic quality of your teeth is their alignment. You may be surprised by what a great cosmetic improvement you experience from having straighter teeth.
Straighter Teeth Create an Appealing Smile
When your teeth aren't quite lined up, it can create a defect in your smile that is hard to pin down. Obviously, if you're an individual who needs braces, you probably have a noticeable case of misalignment, but other cases can be more subtle. In fact, there are many cases of minor misalignment that don't require years of braces to treat. From a cosmetic perspective, a straight smile looks great in photos and in person. Straightening your teeth can do wonders for their appearance.
Six Month Smiles Shapes the Contour of Your Smile
Serious cases of misalignment can have oral health implications, like the premature wear of your teeth's structure. However, minor cases of misalignment are more cosmetic in nature, and the solution for straighter teeth in these cases is also more minor. Six Month Smiles is a smile contour treatment that can reduce the time that it takes to straighten your teeth. As the name would suggest, the treatment timetable for Six Month Smiles is much shorter than that of traditional braces, which can take up to 24 months to align your teeth.
Additional Cosmetic Treatment Can Bring Your Smile to Life
If you've already got a straight set of teeth, or you'd like to explore what other improvements you can make to your smile, you should explore your cosmetic dentistry options. There are a number of different  treatments that can give you a beautiful smile. Professional teeth whitening can remove stains that cause a yellowed appearance in teeth. Dental bonding and contouring can gently shape your teeth to create a more uniform, proportional appearance. Dental veneers can correct any number of smile defects. Building a cosmetic treatment plan can get you on track for a smile that makes you proud.
Find Out About Cosmetic Dentistry at Rodem Tree Dental
You deserve to love your smile, and with gentle cosmetic improvements, you can. Explore cosmetic dentistry options like Six Month Smiles at Rodem Tree Dental. We'll help you build a treatment plan that gives you confidence in the state of your smile. Schedule a consultation by contacting Rodem Tree Dental in Rowlett, TX at 972-475-2321.