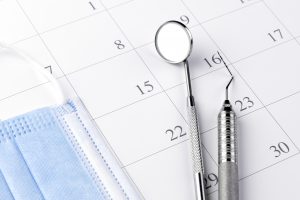 Routine dentist appointments are part of a smart, preventive oral health strategy. Your dentist doesn't recommend that you visit twice per year just because they like catching up with you (that's not to say you aren't a great conversationalist), they do it for the sake of your oral health. By attending dentist appointments every six months, you drastically reduce your risk of developing serious problems with your teeth and gums. Plus, most dental insurance plans already cover visits at this frequency. Be sure to take advantage of your dental insurance and schedule your appointment before the end of the year.
Preventive Dentistry Can Thwart Gum Disease and Cavities
If you're on a consistent schedule of attending dentist appointments every six months, you probably walk away with a pretty clean bill of oral health every time. That's because six months typically isn't enough time for serious oral health problems to develop. If you're genetically predisposed to fighting cavities, one or two may still crop up, but root canal infections and gingivitis typically don't have the chance to gain a footing if you're staying consistent with your appointments.
Cleanings and Individualized Treatment Keep Teeth Healthy
In addition to an examination, your biannual dentist appointment comes with a professional cleaning. Having your teeth cleaned by a trained professional is like getting a clean slate. While you can do a great job of cleaning your teeth at home with brushing and flossing, tartar and plaque can still build up in certain areas of your teeth. A professional cleaning prevents cavity formation. During these visits, your dentist can also recommend additional preventive treatment to reduce your risk for oral health conditions.
Now Is the Time to Schedule Appointments for the Whole Family
You have plenty of appointments and obligations to keep track of, and so do all of the members of your family. Making time for dental appointments is vital, though, and appointment books start to fill up at this time of year. Schedule your dentist appointment now before the end of the calendar year to take full advantage of your dental benefits. The holidays also mark a great time to schedule appointments for the kids in your family — whether they're in elementary school, or home from college, it's always more convenient to attend appointments if you don't have to take off work.
Schedule Your Dentist Appointments at Rodem Tree Dental
If you're looking for comprehensive care from a professional, courteous staff, Rodem Tree Dental is your dentistry home. We provide thorough routine checkups and cleanings to keep your teeth bright and healthy. Schedule an appointment for yourself or your family members by contacting Rodem Tree Dental in Rowlett, TX at 972-475-2321.