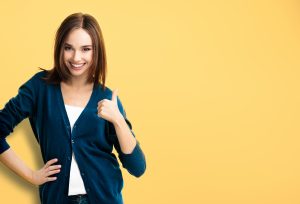 The appearance of your smile is determined by a number of different factors, and it's those factors that cosmetic dentistry can alter. The color of your teeth, their shape, and their size relative to one another all play a part in how your smile looks to others. However, there's another factor that isn't always considered when it comes to the appearance of smiles, and it's one where orthodontics and cosmetic dentistry meet. The contour of your smile, that is, the overall shape of your smile is a huge determining factor in how your smile looks. Simple treatment can ensure your smile strikes the right shape.
Six Month Smiles Adjusts the Contour of Your Smile
There's a difference between adjusting the alignment of your teeth and full-blown orthodontic treatment. Many people don't realize that their small alignment issue may not actually need braces for correction. A treatment called Six Month Smiles can actually adjust the contour of your smile, giving it a straighter appearance. This treatment is much shorter than traditional braces, and it can give you the even, appealing smile that you've always wanted. It works best in cases of minor misalignment.
Orthodontic Treatment Is Necessary for Major Realignment
The realignment of your teeth is actually an oral health issue. Crooked teeth not only form a less-than-attractive smile, but they also have ramifications for how your teeth wear down over time. A misaligned bite can cause certain teeth to bear extra pressure during chewing, wearing down enamel and causing a loss of volume. In serious cases of misalignment, you'll need orthodontic braces with a more traditional treatment timeline. If your dentist or orthodontist suggests this treatment, it's because it's in the best interest of your overall oral health.
The Positive Effects of Six Month Smiles Don't Go Unnoticed
If you are a candidate for Six Month Smiles, you'll be amazed by the results. You may not realize what a difference a small adjustment to the alignment and shape of your smile can make. A straight, even smile looks great in photographs and gives you confidence in social settings. You can combine this treatment with other cosmetic dentistry treatments, like teeth whitening, to create a beautiful smile of which you're proud. You should ask your dentist how to determine whether or not you're a candidate for this treatment.
Schedule a Six Month Smiles Consultation at Rodem Tree Dental
You don't want a protracted treatment timetable for your straighter smile, especially when it's not necessary. Ask your dentist if you're a candidate for Six Month Smiles. If so, we can move forward with treatment to give you that ideal look in your photographs. Schedule a Six Month Smiles consultation at Rodem Tree Dental in Rowlett, TX by calling the office at 972-475-2321.