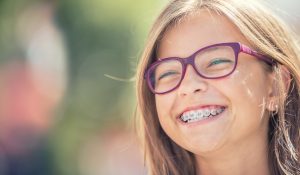 Many people get scared away by the treatment process for traditional braces. The experience can be uncomfortable, annoying, and long. The treatment timetable for traditional braces can be up to two years. It may be tempting to avoid this sort of treatment altogether, but that's the wrong move. If your dentist or orthodontist recommends braces, it's because that treatment will be best for your overall oral health in the long run. Misaligned teeth can lead to premature wear and crooked smiles. In today's blog, we cover why braces take so long to work, and why it's worth the wait.
Braces Move the Structure of Tooth and Bone
If braces didn't take so long to work, maybe they'd be a more attractive treatment option. That would be great, but it makes sense that braces would need time to take effect. Traditional braces move the structure of tooth and bone in your mouth. They use gentle, consistent pressure to push and pull your teeth into alignment. Making this sort of significant structural adjustment can't happen over night. It takes time and consistency. While that may not seem ideal to someone about to undergo orthodontic treatment, it's in the interest of the health of your mouth.
Structural Alignment Is Worth the Wait
The structural alignment of your teeth is an important part of your oral health. Of course you want a straight, beautiful smile. Keeping your teeth in structural alignment also prevents premature wear on your teeth. If your bite is misaligned, it can cause your teeth to grind on each other, or it can cause certain teeth to bear the brunt of wear that comes from chewing food. While it may seem like a long time, the alignment that comes from braces is worth the wait.
There Are Options for Straighter Smiles Without Long Treatment Timetables
If you have severe structural misalignment with your bite, you'll want to explore options for traditional braces. However, it cases of minor misalignment, you may not need such a lengthy treatment. Invisible aligners can help to straighten your smile, and they don't require the brackets and wires of traditional braces. The plastic aligner is barely noticeable, and it's much easier to clean and adjust. This discreet method of teeth straightening may be perfect for you.
Rodem Tree Dental Provides Orthodontic Care
We want you to have healthy teeth for life, that's why we always recommend care based on the best interest of your oral health. At Rodem Tree Dental, you can receive an orthodontic consultation for your teeth. If your misalignment is minor, we have different treatments with shorter timetables that can give you a straight, beautiful smile. Learn more by contacting Rodem Tree Dental in Rowlett, TX at 972-475-2321.